Me and a buddy went out to do some wading Friday morning. We went to the river walk by the Gervais street bridge in downtown Columbia. That's right where the Saluda and the Broad rivers flow together to form the Congaree river. We crossed over to the Broad river side, (the Columbia side) and went looking for some bronze backs.
I took my buddy in there last year and put him on his first smallie. Needless to say he's addicted to those little brown fish.
We loaded up the ultralite gear, some roostertails, small Rapala's, some small Terminator spinnerbaits, and of course some small topwater baits. I was actually throwing a slightly larger topwater bait in an attempt to catch a larger fish, but was mainly playing the role of guide for my buddy. He was wearing me out in the numbers department beings he was throwing the small stuff. His largest of the day was 1lb 10oz. He caught several (10 or so) in the 1lb to 1 1/2lb range. But me being the Jedi Master that I am (
), I had to step up and show him how to catch the biggens.
The big girl weighed 4lbs 12oz. She is the largest SC smallie I've ever caught and it's only 1lb 5oz from my best ever, which i caught in MD. My previous best from SC came from nearly the same spot of the rive and it weighed just a hair over 3lbs. I caught it last year.
Anyway, I snapped a few pictures for your viewing enjoyment.
[img][img]http://i49.photobucket.com/albums/f272/archer8030/Fishing%20pics/IMG_0483_1.jpg[/img]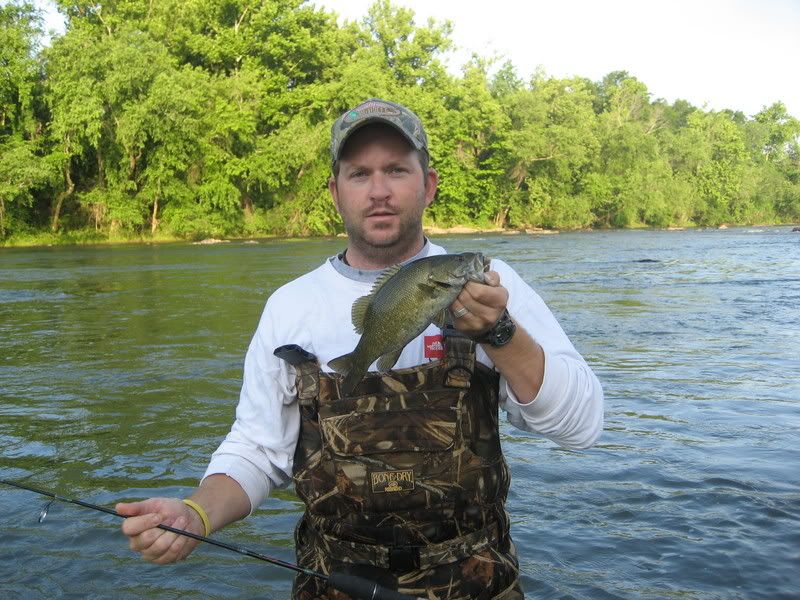 [/img]
(no fish were harmed during the making of these memories...and all were released)